Cognism Champions is a program designed to celebrate our customers for advocating for Cognism.
If you're getting success through your use of Cognism and are willing to share it with us or publicly, this program is for you!
How to sign up
All Cognism customers can sign up for free. The program is only accessible via single-sign on through the Cognism WebApp.
To sign up, click on your profile (in the top right corner of the WebApp).
Then, click on 'Be a Champion, get free stuff'. This will open a new tab and take you to a portal with a Terms & Conditions window.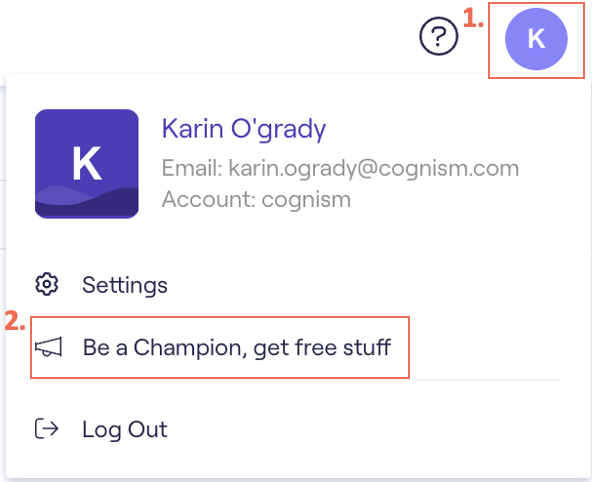 3. Read the Terms & Conditions of the program (at least the summary) which you can also find in this article, scroll to the bottom and click 'agree'.
4. You'll automatically be enrolled and can navigate the program's pages.
Please note the only obligation you have by signing up is to complete 1 activity within the first 3 months of signing up.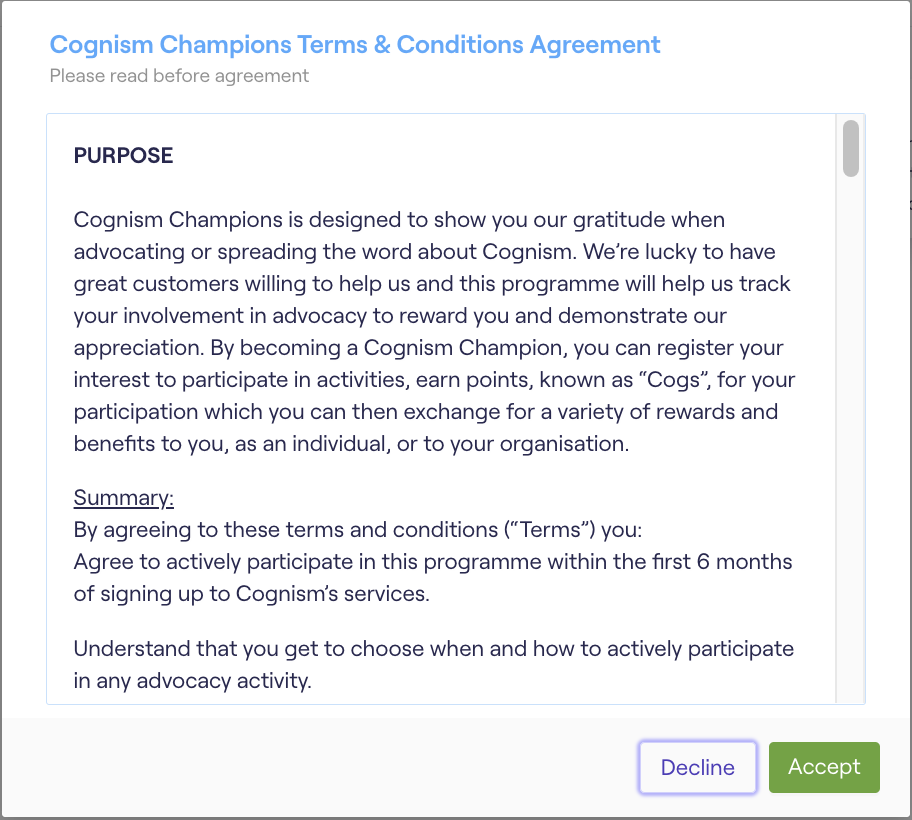 How it works
There are several advocacy activities to get involved in and depending on the activity, to participate you can either register your interest for the activity, or submit it directly in the program.
You can earn a different number of points depending on the activity you complete (see below the number of points per activity).
The Points you earn act as your digital currency, so the aim is to accrue Points through multiple activities and use them to redeem the rewards you like best, so the more you participate the easier it is to claim the best rewards.
Current activities include:
Activity
Points
Completion limit

Write a business review of Cognism on one of the following review websites: G2, Chrome Store, TrustPilot, Capterra, SoftwareReviews

300
5 per calendar quarter

Refer Cognism to another organisation

500
5 per year

Participate in a sales reference call by speaking to a prospect our sales team are engaging with

600
2 per month

Speak on a webinar

700
2 per year

Speak at an event

800
2 per year

Participate in a Product Research Study

(40min meeting)

1,000
no limit

Write a case study to be published on our website and used by our marketing team

1,000
once

Record a video case study to be published on our YouTube channel and used by our marketing team

2,000
once
How to participate
For most activities, you need to register your interest to participate in them. Registering your interests notifies us on what you wish to get involved in, so a member of our Customer Marketing team will reach out to coordinate the activity.
Note: For speaking activities on a webinar or event, our team will only reach out once a speaking opportunity arises, please bare in mind this might be later on in the year.
You can register to each activity by clicking 'Edit', then using the drop down menu, select 'Yes' for the activities that interest you, then click 'Save'.
You are welcome to use 'no' for the activities that don't interest you or leave them blank.
Note: You can update these anytime you like.
For some activities, like writing a 'Business Review', you can action this right away in the program.
This is the list of appropriate sites you can write a review on to earn 300 points:
Then follow these steps:
Click 'Submit a business review' upload a screenshot of your review on one of the appropriate sites and submit it. Once we've approved it, your Point balance will get updated.
Write your review, highlighting your favourite features of Cognism
Take a screenshot of your review and make sure your name is visible on the screenshot
On the 'Activities' page, click the 'submit a business review' button (see below) and upload your screenshot

Our team will review your screenshot and once we've approved it, your point balance will be updated.
Rewards
We've got a selection of rewards available for you at the moment:
Remember that the more you participate the easier it is to claim the best rewards.
Rewards
Points needed to claim
£10 Amazon voucher
500
£20 Amazon voucher
1,000
Xoopar Eco Power Bank
2,500
Echo Dot (4th Generation)
3,000
Apple AirPods (2nd Generation)
5,000
£300 AirBnB voucher
6,000
£500 AirBnB voucher
10,000

Team building activity (worth £/$/€500)

You get to choose what the sum goes towards, it can be a team meal, drinks, team building exercise, whatever you like!

10,000 (can be claimed using points across multiple members of the program)
If you want to see more rewards added, do let us know!
Challenges
On the 'Activities' page of the program, there are also challenges you can take part in. On top of earning Points for activities, you can earn badges when completing a series of the same activity known as Missions.
You can track your progress on these challenges to see how close you are to completing the mission.
Earn all badges and more rewards will come your way!
At the moment, there are three badges you can earn:
| | |
| --- | --- |
| Badge Name | Mission |
| Ally Badge | Complete 3 Sales Reference Call activities and earn the Cognism Ally Badge |
| Referrer Badge | Complete 3 Business Review activities and earn the Cognism Referrer Badge |
| Ambassador Badge | This badge is associated to activities not a mission meaning it is earned by completing a written or video case study activity. |
For any questions or issues relating to this program, please contact Champions@cognism.com. You can also check our FAQ's page.