After you have downloaded the Cognism Chrome Extension, you may want to configure it to your preference, or access certain parts of the platform.
Click the Settings icon at the top-right of the extension.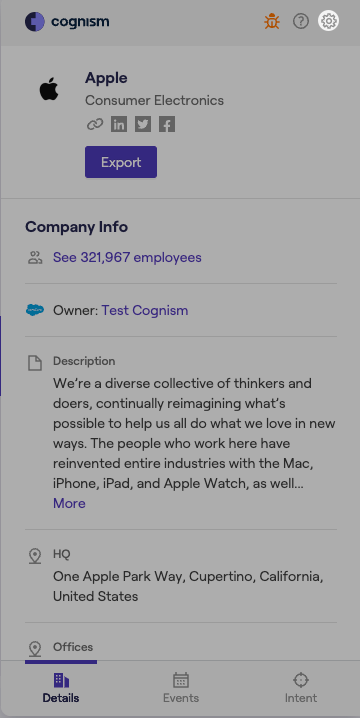 Here you have access to the Chrome Extension settings and links to Prospector where you have access to additional functionality.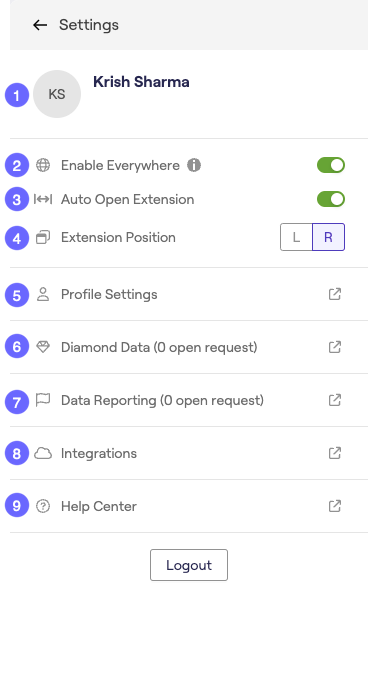 This is your user profile which you are logged in with.
The Enable Everywhere feature allows you to use the Cognism Chrome Extension on corporate websites, in addition to Linkedin and Sales Navigator. Learn more about enable everywhere
Toggle auto open extension on or off if you want the extension to open automatically.
Set the extension to open up on the right or left side of your screen.
Access your profile settings. Clicking this will redirect you to Prospector.
View the progress of your Diamond Data requests via a link to Prospector.
View the progress of any data reporting requests you've made via a link to Prospector.
Login to an integration, or configure an integration. This will redirect you to the integrations settings page in Prospector.
A link to the Cognism Help Center if you need additional help.