The contact data quality filter combines all the important filters you need to narrow down your search and ensure the results contain only the best quality contact data. This filter allows you to filter contacts with a verified Diamond mobile, specify the type of phone a contact has, and filter contacts with verified emails.
Jump to a section:
Applying contact data quality filters
Expand the Contact Data Quality search category.

You will see 3 available toggles:

Diamond Contacts Only
Phone Numbers
Emails

Using these toggles, you can specify what contact data should be included in your search results.
Diamond Contacts Only
Contacts are termed as Diamond Contacts after we have manually verified their mobile number. This ensures the highest possible connect rate to the contact. Diamond Contacts are indicated in the platform with a Diamond icon on their profile and a green diamond icon next to their mobile.
When the Diamond Contacts Only filter is toggled on, your search results will only include contacts with a Diamond Verified mobile number.
Phone Numbers
There are 4 types of phone numbers available in the platform:
When you toggle on Phone Numbers, you have additional options to select which phone number types you want included in your search results.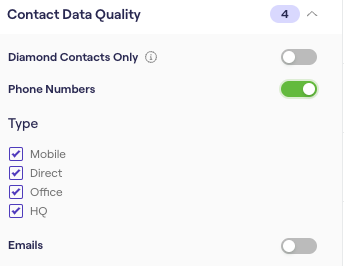 What is a verified Email?
When you toggle on the Emails filter, all contacts with an email will be included in your search results. There is an additional checkbox to only include verified emails.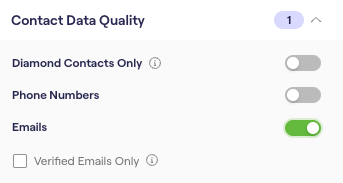 A verified email is validated as high quality by our proprietary email engine. On top of traditional email verification, we use multiple layers of manual and automated quality assurance methods. As a result, we can achieve a deliverability rate estimated over 93%.