The industries filter allows you to narrow down your search to specific industries. You can choose industries from the picklist or, you can expand the advanced filters to use the SIC, ISIC or NAICS code. If you find you are not seeing the results you want, use the exclude Industries filter.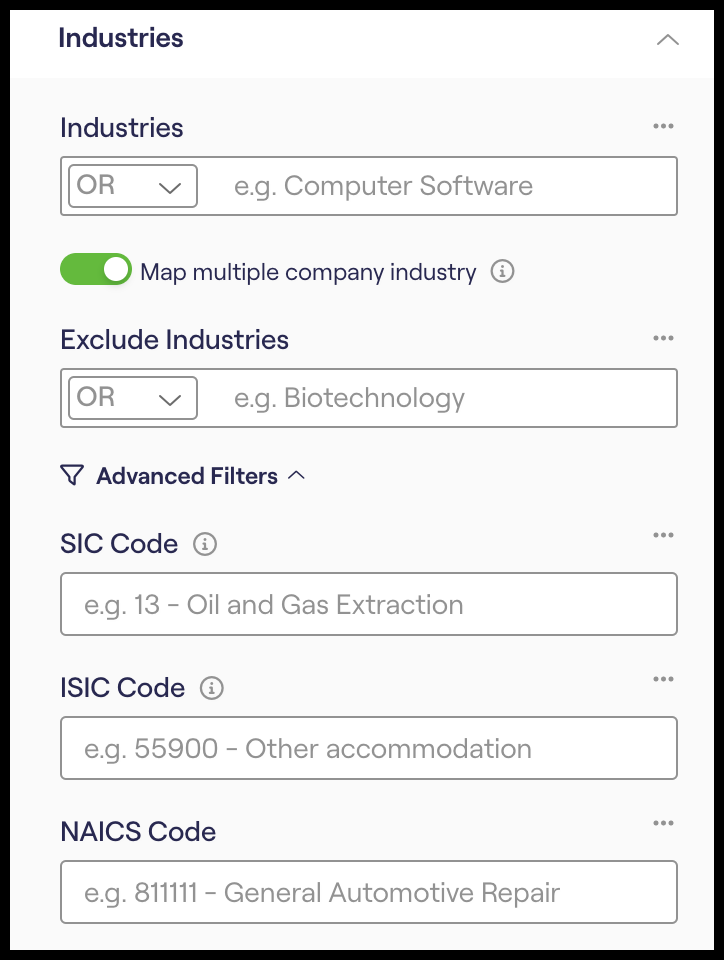 Multiple Industry Mapping
Many companies operate across many industries, and this is how Cognism's industry data is mapped. You have the option to toggle this off to find results based on the company's primary industry.
Grouped Industries
When you are using 'FMCG' or 'Manufacturing' as an industry you may find yourself with companies/people in industries that aren't quite what you're looking for within your search results
Example: If you are searching for industry 'FMCG' with keywords 'Food & Drink' but you are receiving results for people/companies in 'Retail', try using the 'Exclude industries' feature to narrow down your search
For FMCG and Manufacturing, Cognism is grouping several industries under each of these categories.
If you input 'FMCG' as an industry, you can expect to see results for the following industries:
Cosmetics
Apparel & Fashion
Sporting Goods
Tobacco
Supermarkets
Consumer Electronics
Consumer Goods
Furniture
Retail
Wine and Spirits
If you input 'Manufacturing' as an industry, you can expect to see results for the following industries:
Airlines/Aviation
Automotive
Aviation & Aerospace
Business Supplies and Equipment
Chemicals
Consumer Electronics
Consumer Goods
Electrical/Electronic Manufacturing
Food Production
Furniture
Glass, Ceramics & Concrete
Industrial Automation
Machinery
Mechanical or Industrial Engineering
Mining & Metals
Nanotechnology
Oil & Energy
Packaging and Containers
Paper & Forest Products
Plastics
Railroad Manufacture
Renewables & Environment
Retail
Shipbuilding
Textiles
Utilities